Strain Review: Outer Sunset by Chronic Creek
Yee New day new review
@chroniccreek
@westcoastsmokeshow
#outersunset
.
Brand: Chronic Creek
Strain: Outer Sunset
Lineage/Genetics: Sherbert x Thin Mint GSC
Original Breeder: Chronic Creek
Grower: Chronic Creek
Outer Sunset Strain Review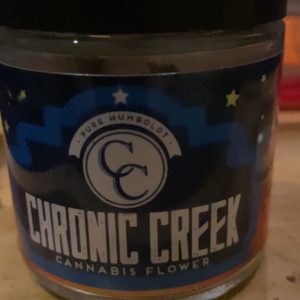 21.52%THC
Comments: Let's go! Loved the last Chronic Creek so I'm hoping for the same. Weed is all about the vibe and I'm guessing I'll like this sunset sherbet variant.
Review
1. Scent: I'm getting a good fruity scent intertwined with a nice dirt like natural hue. It's kinda like walking into a nice garden of berry possibly.
2. Appearance: Jagged cut nugs with a couple spots with leaf matter. Trimmer wasn't bad or anything just noticeable. Nice green matter to trichome ratio for sun grown.
3. Nug Structure: B – C sized bud that is def outdoor. Stems are there so I'll opt to break down by hand, which was easy due to the curing, it's not dry, just right.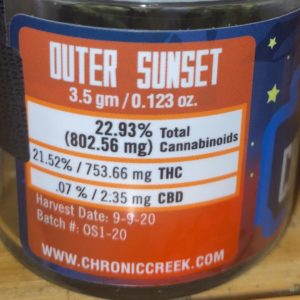 4. Smoke: Standard but noticed it wasn't harsh off the bong as some of the other cuts this 2020. Maybe it's the ice catcher but the lady was feeling it.
5. Taste: Nice natural green fresh taste. No chemical afterburner vibes from the lighter, just cool earth with a slight hue of that sherbet berry we all know to expect.
6. Reaction: Huge bowl off the bubbler got me just right. Legs/Back are not freaking out and my mind is elevated but still functional. High wasn't hella long, 30-45 between bowls, but it's a nice daytime doing stuff Indica hybrid.
7. Conclusion: Yee I'm lifting off for sure. Again, the misses straight said "oh I'm liking this one" which is telling me as a reviewer that it helps reduce anxiety as we both have had bouts of it with "This shit (2020) going on" plus it reduced my leg pain. Would grab again.
#cannabiscommunity #cannabis #cannabisreviews #trees #weed #weedreviews #pot #potreviews #thc #sacramento #916 #420 #yee #legal #strainreview #california #valley #thehighestcritic #westcoastsmokeshow #loud #chroniccreek #humboldt #2020
Advertisements