Strain Review: Slurri Crasher by FloraCal Farms
New Month New Vibez!
. @floracalfarms_
. @westcoastsmokeshow
. @lemonnadesacramento
#slurricrasher
.
Brand: FloraCal
Strain: Slurri Crasher
Lineage/Genetics: Slurricane x Wedding Crasher
Original Breeder: FloraCal Farms
Grower: FloriCal Farms
Slurri Crasher Strain Review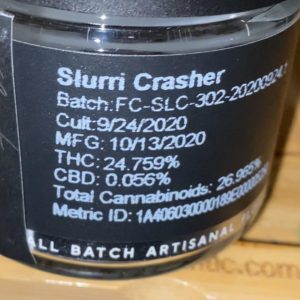 24.759%THC
Comments: What a Friday. Scooped from the folks at Lemonnade off Fee (YEE) met some new faces and was super stoked to get in before the line was out the door.
Review
1. Scent: Waves of berry along with a short refreshing bite of gas and wood. Fades after a couple days tho I noticed.
2. Appearance: Dark purple crystallized nugs with copious amounts of hairs. These trichomes are abound sticking inside and out. Little bit of a deep sea green here and there as well.
3. Nug Structure: Dense to feel at first but they pull apart nicely. No issues with hands or grinder. Opted for hands tbh.
4. Smoke: Grabbed the throat on inhale, fills the room with a nice dense cloud off the bong. Little tingle on the nose, releases maybe 10 seconds after full exhale.
5. Taste: Definitely a type of berry with a little bit of a natural woodland type of vibe. Sorta kush but it enough to say.
6. Reaction: Face is numb, lol! Pretty quick on the body and mind. Within moments of hitting and my body is easing up in the legs. Fun fact, I have degenerative disc disease in my L4/5/S1/2 vertebrae so I need pain management. This is helping.
7. Conclusion: I've actually grabbed this back in BC (before covid) as Slurri Crasher #1. Some differences include: more purple and white sheen with trichomes, gassy taste. But a lower THC and cannabinoid count. I prefer this cut better as the last one was a bit more remind race inducing. Kinda cool I was able to look back at an old review I did in the past. Lol. Would grab all day and you should def give it a whirl.
#cannabiscommunity #cannabis #cannabisreviews #trees #weed #weedreviews #pot #potreviews #thc #sacramento #916 #420 #yee #legal #strainreview #california #valley #thehighestcritic #westcoastsmokeshow #loud #floracal #lemonnadesacramento