Strain Review: Omerta by Dubz Garden x La Coz
Hollla!! @dubz_garden x @la_coz_ x @tedsbudzco_
. @trunorcal420_
#YEE
Brand: DubzGarden
Cultivar: Omertà
Lineage/Genetics: Unknown
Original Breeder: Dubz Garden x La Coz
Grower: Dubz Garden x La Coz
Distributor: Teds Budz Co.
Omerta Strain Review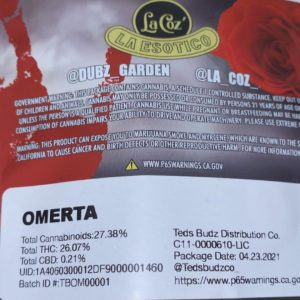 26.07 %THC
0.21% CBD
27.38% Total Cannabinoids
Comments: Following them for over a month, I've seen their stuff around but never grabbed. Let's see what's up as this was a bud tender recommendation. Those can go either way but since my guy has helped me hella times, he knew I'd like it. Yee
Review
1. Scent: Fresh clean berry base, hints of Kushy dank and a small zest of citrus.
2. Appearance: Purple, dark dark green, small hairs of orange and red. Frosty trichomes.
3. Nug Structure: Easy to break by hand. Grinder would be fine but going by hand these last few months. 🤷‍♀️
4. Smoke: Even pulling in and great exhale. Nice round smoke, no burning or tingling at first. Towards the end of the rip, I'm getting that charcoal note, but most of the green is gone.
5. Taste: Getting gelato ish vibes of sweet-musk. Nice roll off the lungs no coughing.
6. Reaction: 👀 instant stone on first exhale. Not confused not lost but not cleaning the house. Stuck at the moment. Not helping for Warzone lol! But so far so good on relaxing, mind is at ease as well as the body.
7. Conclusion: Great balance stone but not working well for me while gaming. 😂 that's 100% user error tho. I found myself hella distracted most of the time but if you get sucked into an activity that's passive, like TV or hanging out, it's legit. Tryin to focus not so much. Def a bag I'll keep around for those "get me to the moon" moments. Wake n bake warning: if you have a busy morning this won't help. 🤣🤷‍♀️
#NoHashTagz