Strain Review: Apple Pie by CAM
Long delay is over! Sorry for the wait but here's what I've been smokin on so far in 2021.
@cam_sacramento @cam_incali @camsupplyco @trunorcal420_
Brand: CAM
Cultivar: Apple Pie
Lineage/Genetics: Apple Fritter pheno
Original Breeder: Lumpy's Flowers
Grower: CAM
Apple Pie Strain Review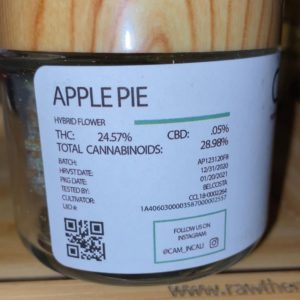 24.57 %THC
0.05% CBD
28.98% Total Cannabinoids
***Note: Grabbed in Feb but posting now. Lol***
Comments: Had CAM back in the day, saw this flavor, which I've liked from others, so thought I'd give it a shot.
Review
1. Scent: Lots to report, Apple spices, a cool menthol that turns minty. It's really present on the fingers during breaking up.
2. Appearance: Chunky sprawling nugs that have wonderful color combos of burnt orange hairs, purple/green buds, very nice under light.
3. Nug Structure: Moisture is good as there is a spring off the bigger pieces, I opted to do grinder for this review. Bulbous and pretty firm but does beak by hand nicely.
4. Smoke: First smoke off this gave off a nice cloud, no cough. Little grab on the throat but it's short.
5. Taste: Spiced apple tones.
6. Reaction: Good all around stone on this guy finding myself lifted within the first 3 to 5 minutes completely stoned an hour later nice. Nice relaxing stone.
7. Conclusion: Man I definitely burn through this one a little too fast if you can find it it's pretty popular throughout California but I would definitely recommend this one.
8. NOTE: ima be purging my phone of reviews so you will notice some of these are months old flavors / pkg dates. Sorry team! 🤷‍♀️🤣😬🤦‍♀️
#NoHashTagz