Strain Review: SF Flan by High Voltage Farms
@highvoltagefarms High Voltage; Orchard Exotics Flan
Lineage/Genetics: Unknown
Indica or Sativa: Indica dominant Hybrid
Original Breeder: High Voltage Farms
Grower: High Voltage Farms
Flan Strain Review
SF-Flan – 28.2%THC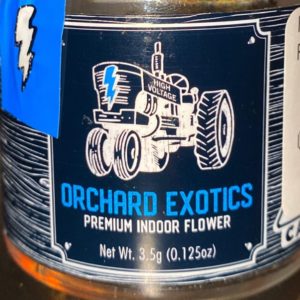 Comments: New brand, was in a rush before the Sacramento lockdown so I didn't even smell it or look at it, just went with the jar artwork and the bud tenders recommendation. Sometimes you just gotta throw caution to the wind—what a fucking win tho! This is one of the fastest smoked strains I've had at the house in months. I am doing all I can to find genetics on it and so far zero results. If anyone can send me the lineage of it I'd love to know!!
Anyways, for a purple hybrid that tastes like berries and gassy OG, this shit kicked my ass. I'd push it to nearly a full Indica if it wasn't for the creative brainwaves I am receiving post smoke. Hope everyone is safe and medicated!
⠀⠀⠀⠀⠀⠀⠀⠀⠀
Review Notes: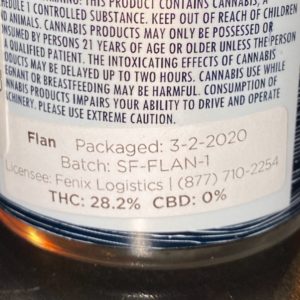 1. Scent: Gas, cool mint-berries and earth more or less. Really fills the room once the jar is cracked. Certainly one of those memorable ones that will be a bookmark in my mind, the scent is almost unique to itself. Old school purple vibes.⠀⠀⠀⠀⠀⠀⠀⠀
2. Appearance: Green and purple leaves throughout with bright yellow, green hairs dripping with trichomes. This shit is just banging to the eye.⠀⠀⠀⠀⠀⠀⠀⠀
3. Nug Structure: Firm but not dense. Fluffy but not light. These buds break down easily from center stem with our without using a grinder to assist. If ya are one of those kief folks, this would be a nice strain for the grinder.⠀⠀⠀⠀⠀⠀
4. Smoke: Dense rich smoke but not too harsh. Does not need rehydration but it does need ice in the bong. Off the bubbler it was pretty smooth; white ashes leftover. Full bodied ⠀⠀⠀⠀⠀⠀⠀⠀⠀
5. Taste: Berry, purple vibes from years past, little bit of earth and a slight exhale of gasoline. Lingers mid-tip tongue for a few moments after exhale. Mouth slightly increasing salivation.⠀⠀⠀⠀⠀⠀⠀⠀⠀⠀⠀⠀⠀⠀⠀
6. Reaction: Stoned hard in the frontal right lobe. Powerful body numbing reaction really making for a post meal food coma treat. Would def recommend for any body pain, my leg was numbed for well over an hour which was great for the sciatica. Longer lasting high for the size of the bong load between 2 people. (45 mins, 2 tv shows on Netflix).
#cannabiscommunity #cannabis #cannabisreviews #trees #weed #weedreviews #pot #potreviews #marijuana #marijuanareviews #thc #sacramento #916 #420 #yee #legal #
Advertisements