Strain Review: Sherbacio by Alien Labs
Strain: Sherbacio
Who: @alienlabs
Lineage/Genetics: Sunset Sherbet x Bacio (Gelato #41)
Indica or Sativa: Indica dominant Hybrid
Original Breeder: ?
Grower: Alien Labs
Dispensary: The Farmacy Westwood
Sherbacio Strain Review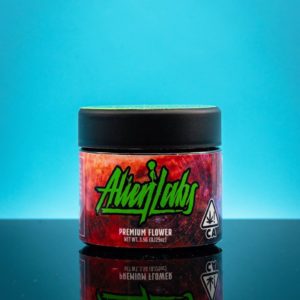 Product 📸: @cali.budshots
Stats: 24.32% THC – O% CBD
Aroma: Pungent Sweet Diesel, Vanilla, Hazelnut, Touch of Sour Citrus Candy.
Palate: Gassy Panna Cotta, Hazelnut Skin, Dank Purple, Citric Acid.
Structure: Perfect trim. Dense, but fell off the stem like a well-cooked rib. Large nugs were selected for my 1/8th. Always great quality control from @alienlabs
Medicinal Effect: Heavy Relaxation, Couch Lock, Perfect for Insomnia, Migraines/Pain Relief. Clear-headed, not foggy.
Overall: I'll probably only buy this, strictly due to the Alien Labs price tag. They are expensive af. But I do have a couple $75+ bottles of liquor in my bar so I get it. Unless you're a total baller, or just in need of a flex, this price is impractical for a regular smoker. That being said, this is some bloody fantastic #designerweed – This is truly #craftcannabis and is aggressively potent. The entourage effect is heightened, as it feels stronger than some of the 35%+ THC I've tried recently. It's a little harsh on the throat. Some spicy undertones that I don't agree with, but I am very happy to have given this strain a proper shot. Would definitely pick up again if found as a promo. Thanks SO MUCH to @cali.budshots for the sick photo!
The Fire Scale: 9/10 flame-stackas
🔥🔥🔥🔥🔥🔥🔥🔥🔥
#cannabis #420 #lacannabis #weedporn #cannaseur #nugshot #fire #thefirescale #og #kush #weedstagram420 #weed #strainreview #wesmokedifferent #indica #sativa #hybrid #cannabiscommunity #stayhigh