Strain Review: Grape Pie by CAM Cannabis
Strain: Grape Pie
Who: @cam_incali
Lineage: Cherry Pie x Grape Stomper
Indica or Sativa: Indica dominant Hybrid
Original Breeder: Cannarado Genetics
Grower: CAM
Grape Pie Strain Review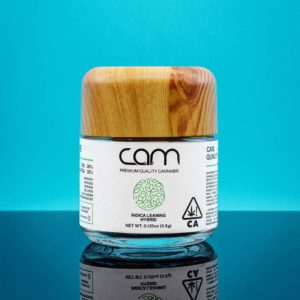 📸: @cali.budshots
Stats: 26.8% THC – .06% CBD
30% Total Cannabinoids
Indica Hybrid
Aroma: Fruit Gummies, Lavender, Sour Candy.
Palate: Dark Berry, Herbal Spice, Earth, Dank Purple, Sour Gas.
Medicinal Effect: Relaxing, Slight Head High w/ focus mainly to the body without extreme sedation. I would guess that this strain would be great for pain relief, mind and body relaxation, along with anxiety.
Structure: Dense, fluffy. Easy to break apart, but not a leafy trim.
Overall: A very fragrant, sweet and welcoming smell erupts from the jar when first cracked. I immediately want to dig into this to see if my palate can pick up on some of the same notes. While those flavors are certainly there, they come across as rather light. The Cherry Pie is subtle, but the Grape Stomper is the dominant focus of this batch. My palate picks up notes that I would find present in strains like GDP, Purple Kush, and Sour Diesel. The bud breaks up rather well between my fingers and burns with ease. I'm definitely a fan of the strain, but the throat hit was a little harsh, and the flavor was just a little too subdued to bring this particular batch up into top top tier. I definitely want to look out for more strains from @cam_incali
The Fire Scale: 8/10 flame-whackas
🔥🔥🔥🔥🔥🔥🔥🔥
#cannabis #420 #lacannabis #weedporn #cannaseur #nugshot #fire #thefirescale #og #kush #weedstagram420 #weed #strainreview #wesmokedifferent #indica #sativa #hybrid #cannabiscommunity #stayhigh #weedstagram #hightimes #smokeweed #smokeweedeveryday #cannaseur #thefirescale #grapepie #purplekush
Advertisements