Strain Review: Silver Cloud by A Golden State
Silver Cloud 💨⛅️✨ Review
High Quality Indica Cannabis Flower
Lineage/Genetics: Unknown
Original Breeder: A Golden State
Grower: A Golden State
Dispensary: Urbn Leaf
Silver Cloud Strain Review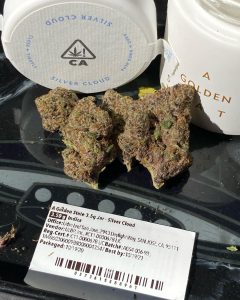 .
23.21% THC Content
0.04% CBD Content
27.40% Total Cannabinoids
.
TERPENES
Caryophyllene, Limonene, Linalool, Myrcene, Humulene & Pinene
.
@agoldenstate @satya.capital
– @therealunclesimmon @nishantreddy
@urbnleafsanjose @westcoastsmokeshow
.
@agoldenstate is a "luxury"cannabis company focused on making a difference. They work closely with @aclu_socal and advocating for equal rights, drug reform and criminal justice.
.
The flower is sustainably grown in small batches, using Mt. Shasta snowmelt and natural soil from the base of the cascades and hydroelectric-sourced electricity. The genetics are all proprietary and created inhouse and each nug was trimmed by hand.
.
Unique, amazing tasting, smooth chocolate, lavender, earth and hops flavors coat your tastebuds. The aroma's as unique as the flavor, consisting of deep, pungent herbal and chocolate notes with a floral lavender aroma relieving some of the weight of the other aromas.
.
The flower provides super potent, fast acting indica effects. You'll get an exceptional productive mood boost and a strong pain relieving body buzz within the first few puffs. A great balanced high , very calming and great for unwinding with some snacks and YouTube after a long day.
.
Colorful, big, chunky nugs dusted with trichomes that give the flower a gold ting when the sunlight hits. The leaves are mostly purple with lime green showing up closer to the bright green stems. Bold vivid orange complement the colorful aesthetic .
Advertisements