Strain Review: Waffle Cone by Kingston Royal
Waffle Cone 🧇 Review
Lineage/Genetics: Dosilato x Jet Fuel Gelato
Original Breeder: Compound Genetics
Grower: Kingston Royal
Dispensary: Eaze
Waffle Cone Strain Review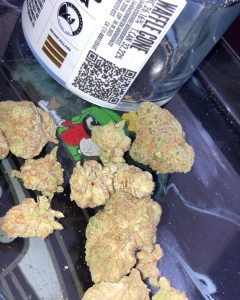 Indoor Indica Dominant Hybrid
.
26.16 % THC
32.22% Total Cannabinoids
.
@kingstonroyal_ @ronbrandon_ @eaze
.
"INHALE ORIGINALITY, EXHALE YOUR REALITY"
.
Big buds, with hues if dark green on the leaves and light green to yellow the closer you get to the stem. I can also see very light hints of violet. There is a golden waffle cone brown tint to the flower that really glows in the sunlight thanks to the and powdery trichomes with compliments from the long fiery amber orange stigmas and dense, tight, nug structure. Slightly dry on the break down maybe due to the older dating of the package.
.
A muted (again maybe due to age) sweet, and creamy, flavor with a consistent undertone reminiscent of the last bites of your favorite local ice cream spots waffle cone, (or even the ice cream cones from mcdonalds) where theres still melted ice cream adding flavor to the cone. I feel like if i were able to get it a fresher batch that id really get a stronger flavor, still tasted great though.
.
Initially a heady, social and active high that eases into a nice smooth, full body, relaxing indica experience. Just like ice cream and cannabis this strain is great daytime use, sharing and socialing maybe through FaceTime until we get outta this quarantine.
Advertisements