Strain Review: White Abbazaba by Abazaba Strain
White Abbazaba
By @abazaba_strain
Gifted by @bestbudsfarm
Lineage/Genetics: Abbazaba (Biscotti x Nerds) x Wifi OG
Original Breeder: Abazaba Strain
Grower: Best Buds Farm
White Abbazaba Strain Review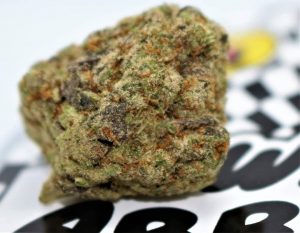 Appearance – Upon opening the bag I was met with some beautiful plump dense buds, the tones are a mix of light to lime green and had splotches of purples throughout the flower, a mouthwatering layer of trichs encompass the nug completly that gives an almost shining blonde color to the nugs and orange pistils that hug tightly to the surface of the cannabis, it's almost to pretty to smoke.
Smell – As you open the bag your nose is met with a very creamy funky cheese like gas, as you sniff deeper the scent drifts off into a almost peppery spicy insense flavor, upon the grind that funky creamy gas overpowered everything.
Taste – The dry pull of the Jay offered a very sweet taste that tappered off into that creamy gas that stuck tonthe roof of my mouth and absolutely intrigued my taste buds, upon the inhale of the toke my pallet took in a deliciously smooth and sweet earthy hash taste mixed with a hint of a creamy nutty gas flavor on the back end, the exhale was very much equal to the inhale smooth and just a thoroughly enjoyable smoke all the way to the bitter sweet end.
Effects – This strain right here will kick you right in the ass and annihilate you if you are not careful, a solid complete creeper all the way, everytime I smoked it I was like yeah fuck it one or two more rips and everytime I did not need the extra, this strain deffinetly leans to more of the Indica dominant side maybe 80/20 would be my guess. It was like the stone would come in stages, as the final wave smacked me I slipped into to this very calm and relaxed state as far as my body, I had a slight zing in my mind and my head felt like a 50 pound weight, it is quite hard to focus in on anything but can still function, overall i felt like I was floating on a cloud. I recommend this strain for a night time toke or if you have just had a rough day.
I give this cut of this strain 5.0 stars
The only thing that I have to complain about is the ticket that was paid as i feel it was a little high.
Great job @abazaba_strain, thank you for blessing us with this fine strain, keep up the 🔥 work.