Strain Review: Banana Poundcake by Golden State Banana
Banana Poundcake
By @golden_state_banana
Lineage/Genetics: Golden State Banana x London Poundcake
Original Breeder: Golden State Banana
Grower: Golden State Banana
Banana Poundcake Strain Review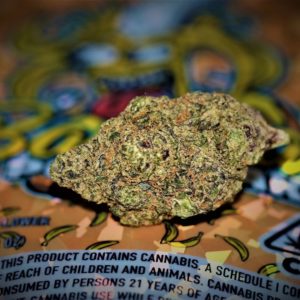 Gifted by @dynasty_south12
Appearance – Bam thats some flashy packaging, this is the new holographic design sticker by Sticker Farmer and I have always loved the screaming banana logo, I'm usually not big on flashy packaging but sometimes and only sometimes whats in the bag stands out and speaks for itself, so how does she speak??? Fat dense fluffy nugs filled my bag, the bud structure is amazing with fat petruding calyxes and a perfect dry/cure as the bud had the perfect amount of moisture content and had a nice amount of squish to the bud, the flower was extremly frosty,however a good majority of the outer trichome heads seemed to have been damaged possibly in the trimming process or as it was en route to its destination and was mostly stalks with mixed in heads that remain, orange pistils surround the plant material wildly clinging closely rolling into tones of earth green that shift to more forest greens as spin the flower around, as I look closer deep purples are hidden throughout the beautiful specimen, I cracked the nug open and revealed heavy layers of fat golden thrichs that mixed together nicely with those deep purples.
Smell – Out of the bag my nose receives a very sugary sweet fruity candy like musk as I smell deeper the scent shifts slightly to a cakey gas on the back end, one broken up the room smells of a sweet gas with a tad bit of pepper that is absolutely amazing. Upon finger grinding the bud the gas remains predominant but has a tinge of a herb and pepper.
Taste – On the inhale my pallette is met pleasantly with a smooth sweet gas that coats my mouth like fun dip sugar and sticks, my exhale was equally as smooth but changed up ever so slightly on the flavor,the gas and sweetness are still there but tagging along right behind them are a floral pepperyness, as they marry together they compliment the toke superbly.
Effects – I enjoyed this smoke no matter how I ingested it, I am a bong guy myself but did get a chance to enjoy out of @rawlife247 papers, my bowl and my @mobiusglass stero matrix, this review was written based off my bong. After my first hit I could feel myself begin to get calmer and begin to relax, I knew immediately she is a potent one, after my 2nd hit the stone slowly moves its way down my back, a slight head buzz begins to set in as I feel racy yet relaxed at the same time. Three was the absolute magic number for myself, as I blew my third snap out I could feel myself just sink into my chair. Five minutes goes by and the stone just gets heavier and heavier, my eyes half opened and mouth as dry as the Sahara desert, finding it quite difficult to put my thoughts into words as I struggle taking notes as i am completly ripped,as time passes the racyness subsides and I enjoy the happy mellow place i am in, I find this strain best for after work or at night, it is very potent and lasts quite some time with proper dosage, 3 bong hits got me around 4 to 5 hours of a stone, if you are new to cannabis go easy as she can overwhelm you, fellow cannasuers will thoroughly enjoy the smoothness and lasting flavor of of this strain just watch out for that banana to sneak up and smack you hard.
Great job to @goldenstatebanana, this cut was killer, nailed every note, only issue was with the outer thrich heads which may have occured outside of their control, nonetheless 🔥 as fuck, oh how I will miss this one when its gone.
Advertisements