Strain Review: Blueberry G by Sweetwater Pharms
Happy Thursday!
. @sweetwaterpharms
. @westcoastsmokeshow
Brand: Sweetwater Pharms
Strain: Blueberry G
24.86 %THC
Lineage/Genetics: Blueberry Muffin x GDP x Cherry Pie
Original Breeder: Sweetwater Pharms
Grower: Sweetwater Pharms
Blueberry G Strain Review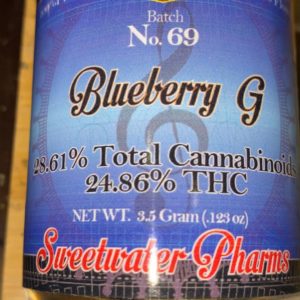 Comments: A new flavor from probably one of my top farms of 2020! Let's take a deep dive into what this cut has to offer. (Throwback post forgot to upload this summer)
Review
1. Scent: Blueberry Tootsie Roll POP. Like straight up smells just like it. Candy blueberry with a chocolate back. One of those memorized scents that you will never forget.
2. Appearance: Frostbit trichomes coat the nugs with good amount of hairs. Good size B nugs.
3. Nug Structure: A little dry but a little rehydration would set this apart. Falls off nicely but another week or two and it would likely go dusty.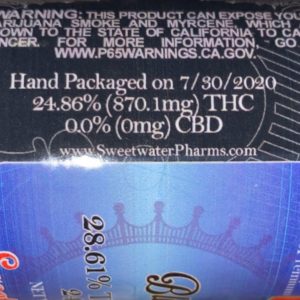 4. Smoke: Tastes really good but the misses found it dry/harsh. I got a piece of tortilla to rehydrate the bud and it tasted a lot better. Usually do orange squares but didn't have any on hand. Lol!
5. Taste: Chocolate for sure and that blueberry/grape tone on exhale. Fantastic vibes off this using the bub.
6. Reaction: Stoned. Heavy eyed in 2-3 mins, body high taking place about 10 mins in and leaves you in a heap on the couch. Def could not pull myself to do jack shit after smoking it. Lulz.
7. Conclusion: Higher THC than some of their other cuts, the flavor was absolutely amazing but the dryness was a bummer till we rehydrated. Been over a week since pick up and this was packaged up 7/30/2020, so it's prob seen a lot of air time.
#cannabiscommunity #cannabis #cannabisreviews #trees #weed #weedreviews #pot #potreviews #thc #sacramento #916 #420 #yee #legal #strainreview #california #valley #thehighestcritic #westcoastsmokeshow #loud #sweetwaterfarms #sweetwaterpharms