Strain Review: Buko Panda by Balikbayan Boys x Shopping Carts
Buko Panda – @balikbayan_boyz @shoppingcarts.california
Nose: Sweet, earthy, doughy, cakey, creamy, fruity, nutty
Inhale: Sweet, fruity, creamy, floral, spicy
Exhale: Doughy, earthy, creamy, candy
Lineage/Genetics 🧬: Haupia (LCG x Gelato 41) x Runtz pheno
Bred by: Waiting on Confirmation
Cultivated by: Waiting on Confirmation
Brand: Balikbayan Boys x Shopping Carts
Terpene Profile: Unknown
Buko Panda Cannabis Cultivar (Strain) Review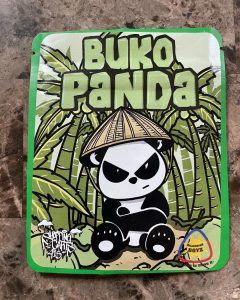 Hey what's up everyone? I'm back home, hope you didn't miss me too much while I was gone. Today, I will be picking back up in a familiar position where I left off. This feature will showcase the Buko Panda which includes a collaboration between Balikbayan Boyz and Shoppingcarts. This will officially be the debut for Balikbayan Boyz who also hail from the San Francisco area. I hadn't heard too much about these guys before hand but did have a chance to try their Calamanzi that a friend of mine had a couple months back. I was also fascinated by their unique brand name and learned that the word is rooted in Filipino culture. I even went as far as to reading into Balikbayan boxes and their cultural impact. If you need a little refresher on some background info about Shopping Carts, I would highly encourage you to visit one of my earlier reviews on them. Having some recent success with some of their newest offerings, I picked this one up from a friend at the same time I did the Chocolate Haupia Pie. When I learned that this was a cross between the original Haupia and Runtz I knew this one was sure to pack some intense candy flavor. Let's waste no more time and get into the facts!
When I received the Buko Panda it was packaged in a standard, square Mylar bag similar to the previous offerings I have received from both of these brands. The artwork displayed on front was assimilated into a theme which was spun off by the cultivars name. Although I did enjoy the colorway as well as the composition of the artwork this really didn't strike me more than anything else than a mean-faced panda bear with its armed crossed rocking a conical hat. Nonetheless, the symbolism of the name for this one was more than clever given that Buko Pandan (which "Buko Panda" is spun from) is a staple dessert amongst Filipino culture.
When I opened up the seal on the mylar packaging, a cakey, doughy layer touched the inside of my nostrils. This odor was followed a pungent collective of creamy tropical flavors including a faint coconut gummy bear smell. I first opened this one near a friend and we both agreed on the highly desirable Runtz-like smell this gave off with its sudden creamy flare. Peeking in on the buds, I captured fairly larger ones with a dark purple complexion. After pulling them out I made out some of the lighter green hues as well as it's modest trichrome coverage. Although the aesthetics weren't poor, I do believe the buds were a little more compressed than normal during transport which may have been the cause for some minor defects. In hand, the buds felt dense and sticky leaving flaky kief residue on my cuticles. While splitting the buds apart I noticed the extraordinarily violet color the insides of each one showed off. Despite its stickiness, this cultivar broke up well either by hand or in the grinder. Once broken down, the Buko Panda exhibited a sweet and floral candy smell that gave the air a sweet aroma. Upon taking a dry pull of the joint, I received sweet, creamy notes of coconut and cherry which gave off an exceptionally fruity vibe.
When I sparked the Buko Panda in an Organic RAW, the initial inhales consisted of that distinct LCG taste. I mainly pulled in both creamy and fruity terps right at the beginning of the sesh. Unlike my prior experiences with various offerings from the Haupia line, I honed in quite well on those distinct sunscreen coconut terps on this cultivar. On the way out, I gained more of a doughier finish resembling a taste of white bread and caramelized strawberries reminiscent of how shortcake lingers on your breath. Each inhale fed off a balanced amount of z which peppered the tongue with floral and spice notes. The deeper I rolled into the sesh the more that the creamy and floral terps, specifically, became more personified. Dialing in on the sweet and creamy taste of coconuts about halfway in, I remember thinking to myself of how impressive it is that the theme (Buko Pandan dessert) of this cultivar matches the taste spot on. Within the mix of those fruity terps I also gained familiarity with notes lemon cherry and orange peel right around this period. The pulls varied as some ended up being subtle and smooth while others tended to lean more on the gassy side. The gassiness picked up exceptionally throughout the second half of the sesh as those fruity and floral notes turned more spicy. The Buko Pandas ideal texture led to an incredible burn which, in turn, resulted in a thick white ash as well as massive terp drip. I didn't experience too much loss of flavor towards the end of the sesh giving off a creamy, faint sunscreen taste to conclude the sesh. Although I do think some of these LCG/Runtz flavors have been played out a bit much in recent memory, I thought the Buko Panda put out an innovative and somewhat of a reinvented version of these flavors.
It didn't take long for the onset of medicinal effects to settle in. Towards the tail end of the sesh I started to feel mildly discombobulated. This begun with a familiar melting sensation that took over the neck, arm and shoulder portion of my upper body. While this feeling of euphoria set in strongly for the next 20-25 minutes I concurrently felt uplifted in mood and spirit.
Packing some mean potency, the Buko Panda made me project a "drooling effect" to my peers while under the influence. I remember thinking back to myself on how the high from this cultivar took me by storm as well as crept up over time. Additionally, I experienced some mild paranoia and confusion which made this more suitable for a night time smoke in my opinion. Although the effects were strong I don't recall the duration of them lasting for more than a hour an half. Not to the ignore the fact that this cultivar helped me work up an impressive appetite. All in all, I thought that the medicinal effects in which the Buko Panda possessed made more fairly long lasting couch-lock experience. While not my favorite of all time, I did find this one to be more on the enjoyable side.
After finally having a chance to try the Buko Panda by Shoppingcarts and Balikbayan Boyz I think their stable of cultivars becomes stronger the more I try. This was a solid first impression for Balikbayan Boyz on the review page as they stamped their culture within the them of this cultivar directly aligning with the consumer experience. It goes without saying that any connoisseur whom possesses a knack for cutting-edge candy terps will more than likely fall in love with what this cultivar has to offer. Additionally, the Buko Panda packs enough punch for those potency seekers as well. This will also fit your style if you desire a heavy couch lock experience. If you are one of those who struggles with mood swings, depression, insomnia, eating disorders, among other things than this should contain the remedy you are seeking. Minus a few slight defects in appearance, the Buko Panda put out a "total package" feel within the overall experience. I would consider this another job well done by these two teams.