Strain Review: Designer OG by Balanced Los Angeles
Designer Og
Cultivated by @balancedlosangeles
Lineage/Genetics: Hollywood Pure Kush x Face Off OG
Original Breeder: Archive Seed Bank
Grower: Balanced Los Angeles
Balanced Designer OG Strain Review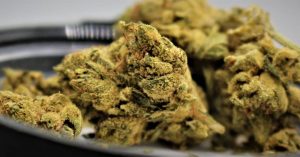 Appearance- I opened the uv painted jar to reveal small to medium sized nugs, no real honker buds but a nice assortment for the ticket, the flower consisted of darker green tones but brightened up due to abuandance of blonde trichomes that gave off a golden sheen emcompassing the entire beauty that sits in this jar, as far as pistils there was a mix of orange and red hairs that you had to search for through the golden frostyness. The buds have a fresh spongeyness to them as if it is still curing in the jar which i believe is due to the choice in jar by balanced, as I have found the uv glass really helps to lengthen the freshness of products due to no light getting in.
Smell-Wow, now this is where it gets super interesting, at first sniff out of the jar my nose was smacked by a straight sourness, not a foul sour like spoiled milk yet I can't put my finger on it, as I smell deeper into the jar the smell shifts way left field to a soap bar irish spring like smell that leaves a soft sting on my nostrils, deffinetly a unique bouquet on this one.
Taste-on the inhale I get a very smooth hit, a slight floral flavor brushes my pallette with that woodsyness on the back end, a clean cooling, smooth inhale. Upon exhaling there is not much but a nice smooth clean hit it is good but as far as flavor it is nothing super special. Out of a joint the flavor is slightly different leaning towards a heavy soapy pepper with a hint of sweetness on the back end, enjoyed this most rolled up in a Raw or Elements paper.
Effects-As soon as I took my first rip i could feel the tension in my back just give instantly as I slip into a nice calm state, several more rips later a nice zing zaps me in my head, the buzz just slowly building up to a heavy stone, I smoked this strain mostly after work and before bed as once it sets in it's quite strong and can knock you out mike tyson style if your not careful,several times I fell asleep picking a show on netflix.
New comers this cut might be a little strong for you, and had both indica and sativa effects that will make the most vetted tokers stoned to the guild.
4 ⭐⭐⭐⭐stars, the flavor was just not there with every nug and varied and I also found a undeveloped seed in one of the nugs, I was liking everything else about it, frosty blonde thrichomes, a unique musk, a hell of a high. I would absolutely reccomend this strain to anyone who has any kind of back pain, joint pain or people that have trouble sleeping. killer job to @balancedlosangeles as I enjoyed this spacey toke but just fell a little shy of a 5 plus star rating
Advertisements