Strain Review: King Dosi by VidaCann
King Dosi 18.6% @vidacannflorida Heavy is the head that wears the crown.
Lineage/Genetics: Do-Si-Dos x King Louis XIII
Indica or Sativa: Indica dominant Hybrid
Original Breeder: VidaCann
Grower: VidaCann
Dispensary: VidaCann
King Dosi Strain Review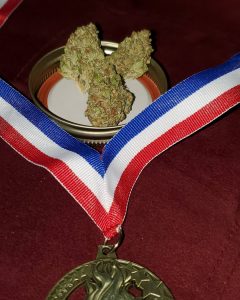 This evening on Strain of Thrones. King Dosi aka Kings Stash, a cannabis strain that is truly fit for a King. King Dosi is not your average indica, in fact depending on your tolerance it could be an on the go all day indica. Easily the best smelling out of my 15+ strains currently. It is a very LOUD slightly skunky funk that still smells sweet and fruity. Very unique terpene Profile.
It has a Smooth, robust, creamy smoke with a taste that will delight. Almost sweet on the tongue like a shot or dessert. I like to call it a fun indica as there can be some silliness and giggles with this strain. A light relaxed feeling may eventually give way to full relaxation and sedation, quicker if you go heavy. For me it is an amazing strain that provides an almost active but productive chill vibe. I also would like to mention again how great this batch smelled at 18.6%. VidaCann is back for sure producing some of the best flower in the state and you won't find this strain anywhere else in Florida. If you catch it in stock grab it quick. This is an on the go indica that can provide relief while still not hindering users from physical activity and retaining a sharpness mentally. This is not a couch locker like I thought it would be.
At the Strain Games Medal Ceremony King Dosi took home the Gold Medal 🥇. It was a brilliant performance. All Hail King Dosi.
#flamedicalmarijuana #strain_games #medicalmarijuanareviews #vidacann #vidacannfl #cannabiscommunity #healingsmoke #cbga #kingdosi
#gasgang #cannabisismedicine #terpenesdontlie #legalizeit #kingdosi #straingames #healingsmoke #freetheplant #420