Strain Review: Lilac Diesel from Curaleaf
Lilac Diesel 21% @curaleaf.usa
Lineage/Genetics: Silver Lemon Haze x Forbidden Fruit x NYC Cherry Pie x Citral Glue
Indica or Sativa: Sativa dominant hybrid
Original Breeder: Ethos Genetics
Grower: Curaleaf
Dispensary: Curaleaf
Lilac Diesel Strain Review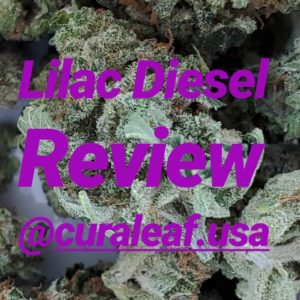 I really wanted to not like my purchase but Curaleaf is getting better. This lilac diesel has a quick onset and it is also a shifter strain. At onset there is a quick Sativa like reaction. This one gets the mind going and you will be happy and carefree pretty quickly. There can be some anxiety so those prone to it beware. This strain is pleasing visually and has unique herbal floral notes. It smells very clean almost like a soap honestly. I cannot understate the soap and flower smell, you will have to try it to see what I mean.
After grinding up I leaned my nose all the way for a closer smell and noticed a slight diesel smell, It was a little hard to identify certainly more Lilac than diesel here. After more time in jar with boveda the smell was much more pronounced and diesel like and more gassy than first realized. It was also a little stickier when breaking by hand. This strain feels good at 39 and they should keep that price across the board. 8ths priced based on THC % is not cool. No other dispensary does this. La Woman, queen of soul and Lambs bread in my previous posts were pretty impressive also. You cannot ignore Curaleaf especially after being first to punch on live resin carts.
At the Strain Games Medal Ceremony Lilac Diesel came home with the silver medal 🥈 . She placed mostly due to her ethos Genetics and her potential but also because of her unsuspected sativa burst followed by extreme medicated feeling. The floral taste makes it like you are smoking real flowers not marijuana flower. Anyone into unique strains might want to check this one out. Curaleaf is getting better on flower and they respond to tags on Instagram. I am certainly not counting them out in flower anymore.
I paid 34 for the 8th and I dont feel bad about this purchase. I hope to try their member berry and brandywine one day. I really really wanted to not like this flower. Ethos genetics has some of the best in the world.
#curaleaffl #ethos #curaleafflorida #ethosgenetics #strain_games #medicalmarijuanareviews
Advertisements