Strain Review: Pink Pastry's by Pastry's
💯
@pastrys_sr
@trunorcal420_
#YEE
Brand: Pastry's
Cultivar: Pink Pastry's
Lineage/Genetics: Unknown
Original Breeder: Pastry's
Grower: Pastry's
Pink Pastry's Strain Review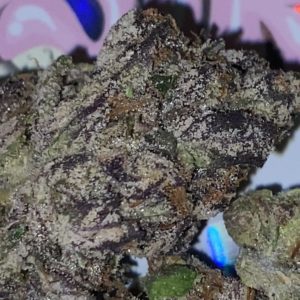 27.04% THC
0 % CBD
31.87% Total Cannabinoids
Pkg date:4/26/2021
Comments: That new new from one of my faves. Had several people DM me saying "this is the way" so obv I made the right friends! Let's see how she rolls.
Review
1. Scent: Nice calm fruit with a tinge of citrus/berry back. Kinda reminds me of a lotion scent.
2. Appearance: Nice Development around the stem, this is not dense as it pulls apart nicely. Leaves the trichomes a bit more intact. Purple mostly with small green nodes with orange hairs. The colors really shine.
3. Nug Structure: Spines and longer bud with jagged edges. Nice moisture content, good breakdown. Not dusting at all.
4. Smoke: First rip off the bub after driving for an hour is smooth. Nice smoke on the exhale, no cough.
5. Taste: Literally a "pink" flavor going on in the mouth. It's fruity, berry like.
6. Reaction: Single bowl, 2 hours stoned. Watched jeopardy, cooked, ate, & watched 1/2 a dexter episode. And I'm still stoned. Not falling on my face and not thinkin the kids playing are the fuzz. 😂🤦‍♀️ like this one. Long duration stone as I found it a great smoke if you are doin pretty much anything.
7. Conclusion: I'll grab this every opportunity I can. The high is insanely long lasting and doesn't make you snoozed or stuck in your thoughts. Really one that has all the checks going for it. It's def top of my 2021 flavors. I'm sure if y'all roll this into a blunt I'd be KOED tho. Little goes a long way.
#NoHashTagz