Strain Review: Zerbert by SF Canna
Holy Shit! Another new one! 👀
. @sfcanna415_
. @lemonnadesacramento
. @trunorcal420_
. @westcoastsmokeshow
Brand: SF Canna
Cultivar: Zerbert
Lineage/Genetics: Zkittlez x Sunset Sherbert
Original Breeder: Cali Kosher
Grower: SF Canna
Dispensary: Lemonnade Sacramento
Zerbert Strain Review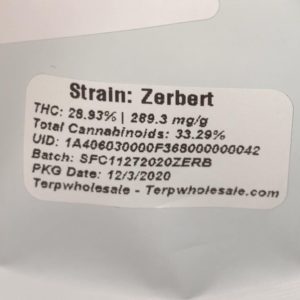 28.83% THC
33.29 % Total Cannabinoids
Pkg Date: 12/3/2020
Comments: Another new brand that I scooped after seeing it online. Looked gorgeous, so let's see what's up.
Review
1. Scent: Purple, rubber, gas and a little berry fruit obv. It's a lingering one too. Def made my house stinky!
2. Appearance: A single nug, wow. This guy was densely covered in purple with tons of white and creamy trichomes. Kinda like a purple asteroid.
3. Nug Structure: Super nice and dense. Drying out slightly in the bag a few days after, but tbh I smoked it hella fast.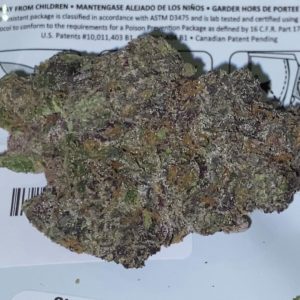 4. Smoke: No chest grabs off the bubbler, slightly deeper on the bong. Nicely rolls off tongue but I'm def coughing 😆
5. Taste: New school purple. Leaves your mouth releasing saliva instantly exposing more of those fruit berry vibrations. Very nice.
6. Reaction: Stoned. Heavy stone. Perfect for a rough day or a lazy one on the weekend. Not for the rookie smoker- lasts well into an hour plus. One rip off a bowl had me trippin for a good 20, so consider spacing out the rips.
7. Conclusion: Def a top tier purple cut with the tag to boot. I'd throw this into the special occasions pick up, but if you can swing it 🙏🏻🆙 to you. Would get again for maybe New Years but I know if I grabbed today it would be gone hella fast.
#NoHashTagz