Strain Review: OZ Kush by Little but Loud
OZ Kush🌳🧟‍♂️ THROWBACK
Little but Loud Cannabis Flower
Lineage/Genetics: OG Eddy Lepp x Zkittlez
Original Breeder: Dying Breed Seeds
Grower: Little but Loud
OZ Kush Strain Review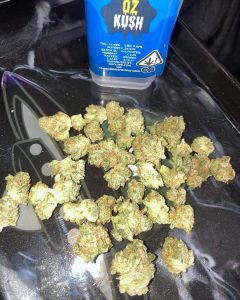 .
21.44% THC
0.07% CBD
24.91% Potentcy
.
🔥Sticky, dense green hued budlets with bright orange pistils.
.
🌳Strong sweet pine and earthy aroma with fuel hints.
.
🧟‍♂️Gassy Earth kush taste with a consistent sweet pine tone to balance it out.
.
🖤A real potent high that quickly relieves stress and tension. You feel an uplifting cloud set just behind your eyesand as you let go of negativity your body is relieved of aches and pain. A really good pick up for the low on a hot summer day in the pandemic.
Advertisements